Childhood
Beginning already at age of five, Dr. Heather Venkat thrived on rescuing injured birds and squirrels from her backyard.
Once she learned what a real veterinarian was, she instantly knew what she wanted to become when she grew up: a veterinarian.
Throughout her childhood, Venkat spent her free time shadowing her local veterinarian and volunteering in an animal shelter.
Her summers included attending summer camp at Northland College where kids came together who had an interest in becoming veterinarians.
The choice to work with companion animals was simple for Venkat, thanks to growing up in Chicago alongside several dogs (an American Eskimo-Australian Cattle Dog mix and a purebred American Eskimo), cats, and of course "pocket pets" (hamsters and gerbils).
However, perhaps what motivated Venkat most to pursue becoming a vet was the sheer joy she experienced in seeing a sick animal recover.
Not to mention the thrill she still gets in preventing illness and injury, and the fulfillment she discovers in exploring the science behind medicine.
Over the years, Venkat's compassion and love for animals made her career choice a no-brainer: she simply had to pursue veterinary medicine!
During her high school years, Venkat was exposed through the news to zoonotic diseases which are spread between people and animals.
These diseases included the Mad Cow Disease, West Nile virus, and Monkeypox.
Naturally, this piqued her interest in the connection that human health has with animal health (One Health!).
Education
In 2009, Venkat was accepted to the University of Illinois at Urbana-Champaign where she spent four years studying Animal Science.
It was here, in central Illinois, that her love for farm animals—horses, cows, pigs, goats, you name it—blossomed.
She worked part-time gathering eggs at the school's poultry farm while also serving as assistant for the horse and swine reproduction farms.
During this time Venkat also had the privilege of traveling to Brazil on a study tour where she worked with a variety of "cool" animals.
These animals included anteaters, maned wolves, crab-eating foxes, and peccaries to name a few.
All throughout college, Venkat's passion for dogs and cats stayed strong.
She volunteered at the Champaign County Humane Society both as a counselor and foster for several cats and dogs, including a Staffordshire terrier, Doberman, and Catahoula-mix.
Taking her skills to the next level, Venkat made sure to gain unique veterinary experiences along the way.
One of these experiences included a summer internship at the Illinois State Public Health Veterinarian thanks to her interest in zoonotic diseases.
Venkat's clinical rotations while studying at the University of Illinois were a mix of companion animal and public health experiences.
Her favorite rotations included soft tissue surgery (she adopted her very first spay ever, a black and white kitten!), internal medicine, ophthalmology, and the Centers for Disease Control and Prevention (CDC) Epidemiology Elective Program where she worked in the One Health Office.
After four vigorous years, Venkat successfully graduated in 2013, obtaining her Degree in Veterinary Medicine (DVM).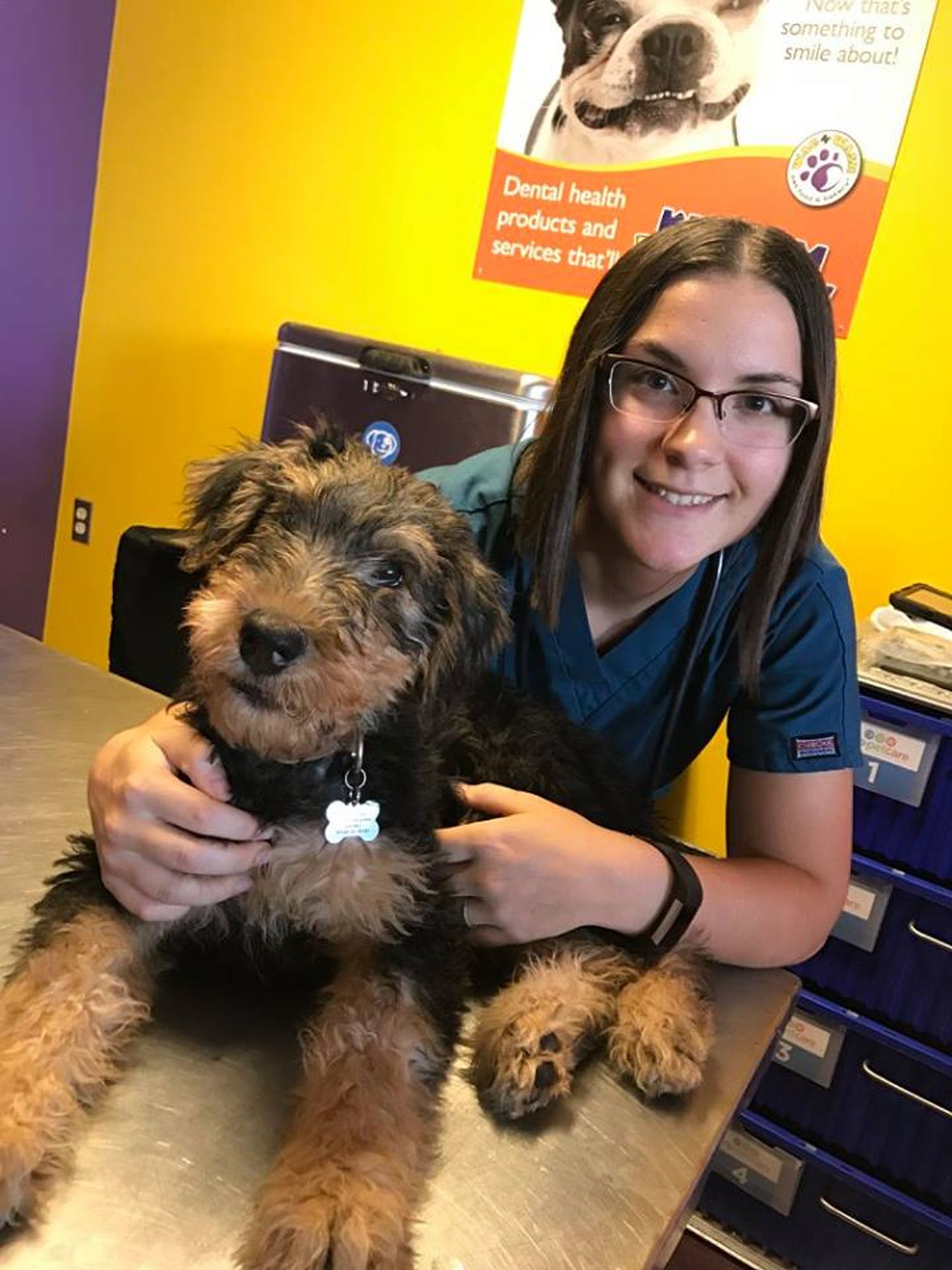 Experience
After graduation, Venkat began practicing companion animal medicine for two years in Chicago.
It was in Chicago where she especially enjoyed performing surgery as well as educating and communicating with clients.
While there, she finished her Masters of Public Health degree in epidemiology (MPH) from the University of Illinois.
Next, Venkat moved to Arizona where she spent two years as a "disease detective" investigating outbreaks with the public health department in Arizona.
One specific outbreak she investigated was leptospirosis, a bacterial disease in dogs throughout the Phoenix area.
It's possible for Leptospirosis to be zoonotic, spreading between people and animals, so Venkat assisted in figuring out how many dogs were sick, how and where they were getting sick, if any people who had interacted with those dogs were sick, along with if any people had gotten lepto from the sick dogs.
The investigation required extensive communication and coordination between public health and animal health partners, as well as creating educational materials.
Since 2015, Venkat has published nearly two dozen scientific manuscripts regarding her investigations.
In 2016, Venkat began providing preventive care to dogs and cats at mobile vaccine clinics with VIP PetCare and has been working as Arizona's State Public Health Veterinarian since 2017.
In 2018, Venkat became a Diplomate of the American College of Veterinary Preventive Medicine (DACVPM), thanks to her passion for prevention.
In her free time, Venkat volunteers in performing dog and cat spays and neuters twice a year through AsaVet, a non-profit organization which travels to rural areas within Arizona.
Today Dr. Venkat serves as the Arizona state vet and is especially passionate about providing veterinary care to pets living on tribal reservations in Arizona.
She specializes specifically in rabies vaccine clinics and tick-borne disease prevention.
Dr. Venkat also thrives in One Health while working to strengthen the human-animal bond.
To top it off, Dr. Venkat is an aspiring author of books for children and young adults, specializing in the fantasy genre.
She jokes that she "wears many hats" and wouldn't have it any other way.
A bonafide animal-lover, Dr. Venkat currently shares her home in Arizona with a Border Collie mix named Luna, three cats (Maya, Mochi, and Gokuu), and two leopard geckos (Saber and Kratos).
Hobbies
Dr. Venkat enjoys keeping busy with reading and hiking mountain trails with her husband.
Her favorite thing to do includes participating in numerous dog sports and activities with her dog Luna.
These sports include agility, rally, scentwork, trick dog, lure coursing, therapy work, barn hunt, and more.
Together, Dr. Venkat and her dog Luna have received many American Kennel Club (AKC) titles in these various activities and even qualified for the 2020 United States Dog Agility Association (USDAA) National Championships.
To her credit, Dr. Venkat is a patient person who enjoys training dogs.
She is rewarded by seeing the bond grow between a person and their furry family member.
Despite her love of training and activities, which both Dr. Venkat and Luna enjoy, they are equally happy to snuggle on the couch and relax together watching Netflix (especially when the hot Arizona summers force them inside!).